Getting Medals Back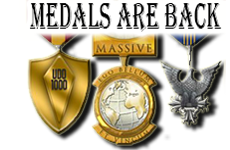 Marcos, the programmer who does the coding to our Risk games has identified the reason why Medals have not been awarded to winners. A major fix will be implemented during our next update! The best part of this news is that the medals will be awarded retroactively! So no need to go back and replay all those Duck and Cover games. Remember that, Risk players get more medals for a win. The medals can be won by playing the classic Risk games against a single or multiplayer computer opponents. The upcoming update will resolve the long issue of the medals not being attributed to all Risk players.
There are currently 3166 medals ready to be awarded to players, and that number should grow by the time we implement the fix.
2999 of those are Map Explorer Medals
and the remaining 167 are 50 Consecutive Turns Taken Medals
We will also be adding Medals for the new Forgotten Kingdom map. So start playing and get ready to check your Profile page for the new medals!
Remember, though, this fix will take place during our next update. So as usual, there will be a warning posted, as well as a countdown clock, followed by the site going off-line, a lot of complaints about missed turns, and some words of encouragement. Then when we're back up, we will have Medals! (fingers crossed)
As an added bonus, I asked if we could have the specific name of the Achievement Medal mentioned in the RECON tab when a medal gets awarded. It has always bothered me that a generic message "You have been awarded the  achievement medal" shows up, but you do not know which medal it was. Well, Marcos discovered that this was not the original intention either. That double space before the word "achievement" was meant to be filled by a medal name. Again, for some reason, this was not working. It turns out the table describing the medal and it's name was blank. So we are filling in the missing fields with the correct information and soon the RECON tab will tell you exactly which medal was just awarded to you.
And for those who are technically minded, the reason for the Medals not working was because -> "The cron job is crashing while trying to allocate more than 256MB of RAM, which is set as the limit on the server."
For those who aren't technically minded -> "It was broken, now it's fixed" 🙂

Sheriff.